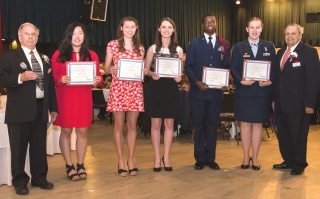 Hanscom FCU proudly awarded $10,500 in scholarships at its 61st Annual Meeting, with $1,500 awards going to five credit union members beginning their college careers and two students from local Air Force Junior ROTC units.
The Condon scholarship recipients were Gina D'Addario of Woburn (Mass.) Memorial High School; Theresa Chen of Sherborn, Mass. and Dover-Sherborn High School; Caroline Johnston Wilmington (Mass.) High School; Brianna Kitts of Silver Spring, Md. and Montgomery County Public Schools in Rockville, Md.; and Joseph Romano of Arlington (Mass.) High School.
Named after former board member John F. Condon, a valued leader at Hanscom FCU for 26 years, the scholarships for Hanscom FCU members are awarded based on academic record, extracurricular activities and an essay.
The top graduates of the Lowell High and Bedford High AFJROTC programs, Jeremiah Menyongai of Lowell, Mass. and Emma Valentine of Bedford, Mass., also received $1,500 scholarships.
"We're so proud to associate the memory of John Condon and Hanscom FCU with these amazing kids," said Chairman of the Board Paul Marotta. "And just like every year the really fun part starts now — watching them start to take on the world and impact it the way we know they can."