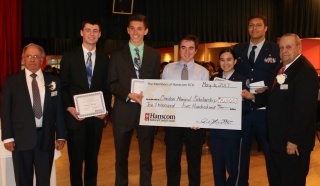 Hanscom FCU recognized seven high school students with college scholarships at its recent Annual Meeting. Five credit union members and two students from local Air Force Junior ROTC units each received $1,500 towards college expenses.
The John F. Condon scholarship is named after a former board member who contributed substantially to Hanscom FCU's success in his 26 years of volunteer service. The award is based on academic record, extracurricular activities and an essay.
This year's recipients are Logan Stansbury of North Reading, Michael McAlarney of Lexington, Benjamin Lacroix of Littleton, Matthew Dunbar of Franklin, and Wesley Gallishaw of Seekonk.
The top graduates of the Lowell High and Bedford High AFJROTC programs, Cadet/Colonel Sabrina Diaz of Lowell and Cadet Zane Adam Sharkawy of Bedford, received $1,500 scholarships.
"Today's students embody the community's hopes for the future," said Chairman of the Board Paul Marotta. "Anything we can do to help them get the tools they need is a good investment."