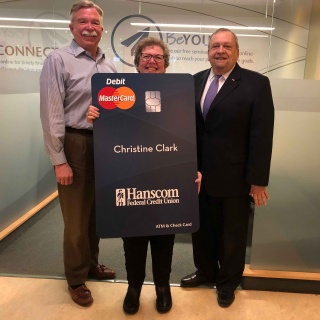 Hanscom AFB, MA (January 23, 2019) – The Hanscom FCU Charitable Foundation has announced that Christine Clark of Medford, MA, won a $10,000 prize in its cash raffle to benefit the Cooperative Credit Union Association's (CCUA) Massachusetts Coalition for the Homeless Build a Bed Project. Through the end of December, ticket sales raised $17,640 for the Coalition.
"I'm grateful to our members and staff for making this year's raffle a success," said Hanscom FCU's Chairman of the Board Paul Marotta. "We've held this fundraiser every other year for quite a while and it goes far to help the Coalition provide services and meet its constituents' needs."
The Massachusetts Coalition for the Homeless is the oldest advocacy group for the homeless in the commonwealth. Its relationship with the credit union and the CCUA is long-standing, marked by countless fundraising and support efforts.
"Our relationship with the Coalition through the CCUA is an important one," Marotta said. "We're incredibly proud to have this partnership with them, and we look forward to offering both organizations our continued support."
Photo credit: Christine Clark (center) receives her $10,000 cash raffle prize from David Sprague (left), President and CEO, Hanscom FCU, and Paul Marotta (right), Chairman of the Board, Hanscom FCU.