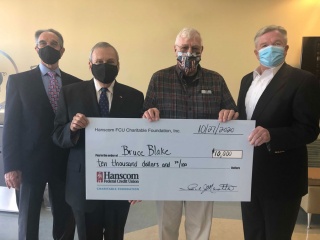 Hanscom AFB, MA (November 16, 2020) – The Hanscom FCU Charitable Foundation has announced that Bruce Blake of Bedford, MA, won a $10,000 prize in its cash raffle to benefit the Cooperative Credit Union Association's (CCUA) support of the Massachusetts Coalition for the Homeless. Ticket sales raised $20,000 for the Coalition's A Bed for Every Child Initiative.
"Yet again, our generous members and staff have made this year's raffle an incredible success, and tickets sold out in record time," said Hanscom FCU Charitable Foundation Chairman of the Board Paul Marotta. "We've held this fundraiser biannually for years now, and these funds go a long way in helping the Coalition to serve families in our community."
The Massachusetts Coalition for the Homeless is the oldest advocacy group for the homeless in the commonwealth. Its relationship with the credit union and the CCUA is long-standing, marked by countless fundraising and support efforts. This year, in the wake of changes caused by the pandemic, the Coalition has expanded A Bed for Every Child's programs to provide desks for children in need learning from home.
"Our relationship with the Coalition through the CCUA is an important one," Marotta said. "We're proud to continue our support of their mission to improve the lives of children across the state. Every child deserves to have a comfortable place to get a restful night's sleep so they can meet the next day at their fullest potential."