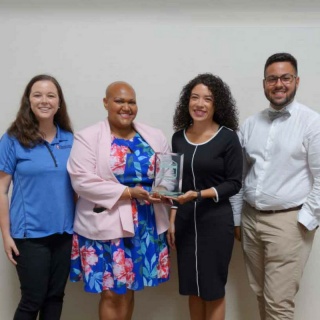 Hanscom Federal Credit Union was recently presented with the America Saves Designation of Savings Excellence Award from the America Saves
Week campaign, coordinated by the nonprofit Consumer Federation of America.
The Excellence Award was given in recognition for Hanscom FCU's member outreach during America/Military Saves Week, February 26 – March 3, 2018. The outreach included face-to-face conversations at nine Military Saves Week events where practical savings and investment tips were shared by the credit union's Partner Relations team; a $25 Bonus Offer, which incentivized military members to open an automated savings account; and a fun and educational "Feed the Pig" event developed especially for kids, where children were encouraged to paint and decorate a piggy bank, then given instructions to keep their "piggy" healthy by feeding it "greens and minerals" at home.
The Excellence Award recognizes the important role that credit unions play in helping families save money and build wealth, and rewards those organizations that go above and beyond to encourage members to save for the future.
Said Hanscom FCU's Chairman of the Board Paul Marotta, "We're honored to receive this award. Our military members are key members of our credit union family. Anything we can do to help active duty and retired military service members, along with their families, save for a bright future, we're committed to doing – not just for a week, but for a lifetime."