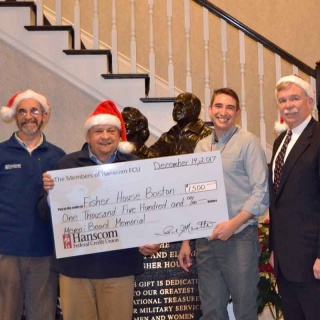 Hanscom FCU honored Fisher House Boston with the Board Memorial Award, a $1,500 grant awarded annually to a charitable organization associated with Hanscom FCU's membership base.
Fisher House Boston is one of 73 Fisher Houses located on 24 military installations and 29 VA medical centers worldwide. These homes provide military families housing that is close to a loved one during hospitalization. There is no charge for family members to stay at a Fisher House.
"The service that Fisher House Boston provides to military families is immeasurable," said Hanscom FCU Chairman Paul Marotta. "These families are under considerable stress, so having lodging with a caring and dedicated organization provides needed comfort."
Photo: Hanscom FCU Director Ray Phillips (left) joins Hanscom FCU Chairman of the Board Paul Marotta, Fisher House Program Support Assistant Brandon Driscoll, and Hanscom FCU President/CEO David Sprague.