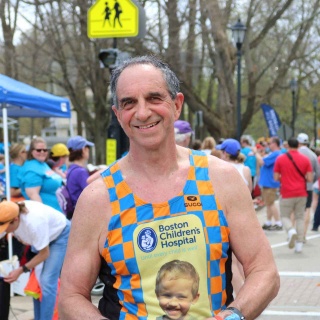 Ray Phillips, a Hanscom Federal Credit Union board member, will be competing in his 19th Boston Marathon on April 16, 2018. This is a significant race for Ray—not just because he's continuing his commitment to run for charity, but because it'll be his first race in Boston's 70-plus age division.
For someone who thought his first run at Boston would be a one-time thing in 2000, Ray's come a long way. One reason he's been coming back year after year started with a little boy named Andy Martin, Jr., his four-year-old Patient Partner from Boston Children's Hospital, who shyly asked him during a race kickoff event, "Ray, are you running the Boston Marathon for me?"
Since then, Ray has run 107 marathons. Last year he hit his 100th and planned it so it would be in Boston.
Today Ray and Andy both race on this traditional Patriots' Day event – Ray as a runner in his age division, and Andy in the wheelchair division. Together this unstoppable pair has helped raise over $500,000 for Boston Children's Hospital, where 100% of the funds raised this year will be donated to several pediatric brain research projects. Nothing is deducted for administrative expenses.
"Ray Phillips is a master marathoner who has already done so much to help our credit union help children who are battling some rare and difficult-to-treat brain diseases," said Hanscom FCU's Chairman of the Board Paul Marotta. "At an age where a lot of people tend to go easier on their bodies, he's challenging himself to a race that would be tough on anyone half his age. We're in awe of his persistence and dedication."