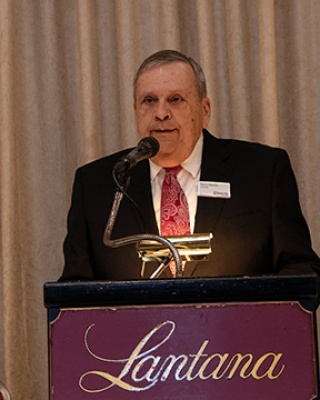 Hanscom Federal Credit Union held its 64th Annual Meeting on Saturday, May 5, at The Lantana in Randolph, MA. Chairman of the Board Paul Marotta reported on an outstanding year in 2017, which included continued growth in assets and membership.
"We were able to meet or exceed all of our strategic goals that we set out to accomplish, as well as all of our challenging financial targets," Marotta said. "We exceeded all our peer credit union benchmarks from across the entire United States, and we did that in a very financially secure, purposeful, and progressive manner."
Marotta's review of Hanscom FCU's successful year included news that its assets grew by $86 million, ending the year at nearly $1.3 billion dollars, reflecting an increase of 7.2%. The loan portfolio, now at $1.1 billion, reflects a growth of 12% over 2016. At the same time, overall member share and certificate balances increased by $77 million, and membership grew by over 16% for a total of 81,000 members.
In recognition of the credit union's outstanding financial performance, the Board of Directors authorized a special year-end loyalty dividend of 2% on shares and consumer loans, totaling approximately $850,000. This marked the 21st consecutive year Hanscom FCU has paid a year-end dividend to its member-owners.
The credit union achieved several operational goals in 2017:
Began construction of its new Operations Center in Littleton, MA, which is now home to its call center, information systems, lending, accounting, member relations, and human resources departments, as well as a new branch office in the lobby.
Opened a state-of-the-art branch in Billerica, MA, where members interact with highly trained staff, become informed on financial products and services via cutting-edge technology, and are inspired to take control of their financial futures.
Welcomed 2,000 members of Touchstone FCU of Wilmington, MA, to the Hanscom FCU family through a merger that was completed in October, expanding their access to financial products and services.
Invested in technology to better serve members, such as with debit and credit instant card issue; adding Samsung Pay and Google Pay to its Digital Wallet; offering a new mobile mortgage application app; and upgrading Online Access HD with a refreshed design, new features, and a simplified enrollment process.
In addition, Hanscom FCU maintained a high level of charitable contribution in 2017, from supporting military veterans through a variety of programs to raising funds to research pediatric brain diseases at Boston Children's Hospital by supporting charity runners at the Boston Marathon. "I am most proud to have supported the Credit Union Kids at Heart program sponsored by our wonderful corporate credit union, EasCorp," Marotta said. "We donated $48,688 primarily raised from member, staff, and vendor donations for our dedicated runners, who gave it their all on Marathon Monday."
The credit union also received first-place recognition for both the Dora Maxwell Social Responsibility and the Louise Herring Philosophy in Action Awards from the Massachusetts Cooperative Credit Union Association as well as first place National recognition for the Louise Herring Philosophy in Action Award.
"Hanscom Federal Credit Union had a very successful and rock-solid year in 2017 from a financial and operational point of view," said Marotta. "As chairman, I cannot be more proud and, quite frankly, that is what continues to motivate me to be involved with Hanscom FCU."