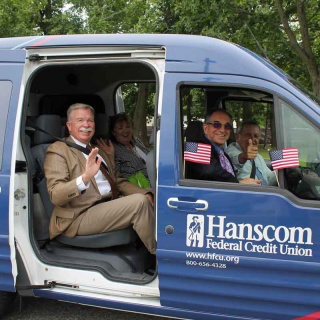 Hanscom AFB, MA (July 23, 2019) – Hanscom FCU employees and volunteers gave a rousing "Welcome Home" during a Heroes Homecoming parade on July 18 to honor military personnel returning to Hanscom AFB after deployment abroad. The celebratory events of the day, which included a recognition ceremony and picnic, honored service members and their families for their sacrifices. Prior to the parade, a private ceremony at the base's conference center officially welcomed the service members home.
"We're immensely proud of the men and women who put their lives on the line to defend and serve our country," said Paul Marotta, Hanscom FCU's chairman emeritus. "Their families are serving their country, too, for extended periods of time. Today's events are an opportunity for the base community to thank everyone in the family for their service."
The Heroes Homecoming parade included fire trucks, military vehicles, classic cars, and the quintessential Duck Boat, from which the service members and their families waved and threw candy to the crowds. Chairman emeritus Marotta drove Hanscom FCU's van in the parade, and was accompanied by Ray Phillips, Hanscom FCU's chairman of the board. Afterwards, the credit union's partner relations department handed out ice cream treats to the honorees and their families.