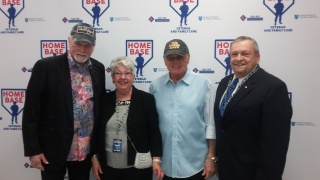 The Hanscom FCU Charitable Foundation donated $100,000 as a sponsor for the 4th Annual Home Base Mission Gratitude concert. The event, which took place November 8 at Boston University's Agganis Arena, featured a special performance by the Beach Boys.
Home Base is a partnership between the Red Sox Foundation and Massachusetts General Hospital that supports veterans returning home with traumatic brain injuries or post-traumatic stress disorder.

"What a wonderful opportunity to stand with veterans and their families," said Alan Hart, Board Chairman for the Hanscom FCU Charitable Foundation. "They call them the invisible wounds of war, but brain injuries and post-traumatic stress can be devastating. Our hats are off to the providers who help ease the burden placed on our country's heroes. We are proud to support the Mission Gratitude concert and other fundraising events for this organization."
The Hanscom FCU Charitable Foundation has named the Home Base Program, and Mission Gratitude, as a primary charity. "We appreciate that all proceeds from the event will go directly to Home Base," stated Paul Marotta, Hanscom FCU Chairman of the Board and a director for the foundation. "Our charitable foundation is also focused on sending 100% of donations to the beneficiaries, with nothing taken out for administrative expenses."
For more information about the Home Base Program, visit www.homebase.org.