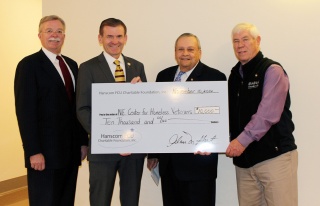 The Hanscom FCU Charitable Foundation presented a $10,000 donation to the New England Center and Home for Veterans (NECHV). The gift will assist the center as a national leader in housing and serving veterans who are at risk of homelessness.
"We created the Hanscom FCU Charitable Foundation so we could focus our support of organizations such as this one," said Alan Hart, chairman of the board for the charitable foundation. "NECHV provides vital services for members of our community who are in need, plus many of its programs are driven by volunteer support. These two factors make us a perfect match."
The Hanscom FCU Charitable Foundation was started in 2012 to help the local nonprofit community with funds and assistance. Proceeds received through membership, fundraisers, and donations are distributed to nonprofits with nothing taken for administrative purposes.
"The strength of our organization is our membership," noted Paul Marotta, a director of the Foundation and Chairman of the Board for Hanscom FCU. "We come together so we can make a lasting impact on the organizations that serve our community."
The NECHV serves over 350 veterans each day in their home communities. Current programs include education, clinical support, employment and housing. The organization provides affordable housing as well as transitional and emergency shelter for hundreds of veterans. The organization serves over 100,000 resident meals per year.