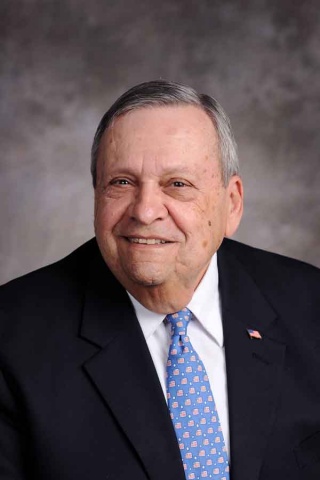 Hanscom AFB, MA (May 7, 2019) – Hanscom Federal Credit Union has announced that Paul J. Marotta, its long-serving Chairman of the Board, has stepped down in order to pursue other credit union and personal activities. Marotta was elected Chairman Emeritus at the board organizational meeting following the credit union's Annual Meeting on Saturday, May 4, 2019. In addition, Mr. Marotta will chair the Hanscom FCU Charitable Foundation, Inc., an area in which he is most passionate and dedicated in the credit union spirit of People Helping People.
Longtime Director Ray T. Phillips was elected Chairman of the Board. Also elected during the meeting were John A. Delcore as Vice Chairman, Mark D. Walsh as Treasurer, and Teresa S. Conrad as Secretary.
"I'm deeply humbled to be honored in this way by my fellow Directors," said Mr. Marotta, "and I look forward to continuing to serve the credit union as a Director. This new role, which is part of a well-organized succession plan for Hanscom FCU, gives me the freedom to mentor future leaders of Hanscom Federal Credit Union as well as devote more time to my many volunteer commitments, grandchildren's activities, and traveling."
Mr. Marotta's appointment to the newly created position of Chairman Emeritus was designed to recognize the unparalleled leadership he's given to the credit union over the past 27 years. An accountant by trade with a background in auditing, Mr. Marotta held several civilian Air Force roles prior to joining the credit union in 1976, including working as an audit manager and later as Chief of the Commander's Action Group for the commanding three-star general at Hanscom AFB. He served first on the credit union's Supervisory Committee before becoming a Director in 1988. Mr. Marotta was elected Chairman in 1992.
During his years of service to the credit union, Mr. Marotta has guided Hanscom FCU through some crucial times, including the buildup of technology, unprecedented member growth, economic fluctuations, and some of the greatest legislative challenges the credit union movement has seen. Under his leadership, Hanscom FCU's assets have surpassed $1 billion and its branch network has grown to 21 locations in two states.
Among his many contributions to Hanscom FCU, Mr. Marotta helped create its Member Advisory Group, which invites members to meet quarterly with credit union management. He was instrumental in establishing the Hanscom Federal Credit Union Charitable Foundation, which has provided $500,000 to the Home Base Program to help military members who suffer from traumatic brain injuries and post-traumatic stress disorder.
Mr. Marotta's community volunteerism is legendary, beginning with the area's military community. He can always be counted on to lend support to military leadership programs, memorials, events, and organizations including those at Hanscom AFB, Natick Soldier Systems Center, the 66th Security Forces Squadron Defenders Club, the Hanscom AFB Airman Leadership Program, the Lowell High School Air Force JROTC, Hanscom AFB Middle School, the Hanscom AFB Giving Tree program, the Air Force 70th Anniversary Ball, the VA Boston Healthcare System, and the U.S. Marine Corps Toys for Tots campaign to name a few.
He's an avid supporter of Boston Children's Hospital and the Massachusetts Coalition for the Homeless, as well as numerous outreach efforts that enrich local and military communities. He is the Chairman of the Massachusetts Credit Unions Social Responsibility Committee for the Cooperative Credit Union Association and has helped lead the committee to new fundraising heights. He has led events for the Massachusetts Coalition for the Homeless Bed for Every Child Initiative that provide beds for children living in poverty and is an avid supporter of the coalition's annual children's book drive. Mr. Marotta has also spent enormous amounts of time assisting families at Fisher House Boston, which hosts military families at no charge while their loved ones receive treatment through the VA Boston Healthcare System.
Under Mr. Marotta's leadership, Hanscom Federal Credit Union was recognized three times as Air Force Credit Union of the Year, and one time as Army Credit Union of the Year, the National Association of Federally Insured Credit Unions Credit Union of the Year, and Kiplinger's Personal Finance's Best Credit Union of the Year, along with numerous other local and national awards. He has been personally honored many times for his commitment to credit union values and the community. In 2015, the Warren Group, publisher of Banker and Tradesman, named him a Credit Union Hero. The Massachusetts Cooperative Credit Union Association (CCUA) gave him its Credit Union Community Hope Initiative Outstanding Service Award. Because of his efforts at helping homeless families and charitable organizations, the CCUA established an award in his honor known as the "Paul Marotta Outstanding Service Award." Furthermore, Mr. Marotta was honored by the Lowell High School Junior ROTC by the naming of the Paul J. Marotta Reach for the Stars Award honoring outstanding cadet leadership within the program.
Other awards Mr. Marotta has received during his tenure as Chairman include the Eugene Ball Chairmen's Leadership Award from the National Association of Credit Union Chairmen (2014) and Volunteer of the Year by the National Association of Federally Insured Credit Unions (2017). He was inducted into the Defense Credit Union Council Hall of Honor (2018). Just prior to his appointment as Chairman Emeritus, Mr. Marotta was honored by the CCUA with a 2019 Difference Maker Award.
"Hanscom FCU's Board of Directors has worked tirelessly over the last year to develop a succession plan that best leverages the knowledge and skills we bring to the table so the credit union can continue to grow and move forward," said Phillips. "We're delighted that Paul will continue to serve alongside us in his new role."