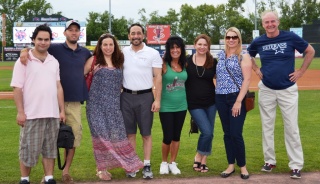 Long June evenings are perfect for taking in a baseball game, especially from a suite with a great view of the park, along with some barbecue.
That was the scene on June 27 when Hanscom FCU honored Lieutenant Colonel (ret) Vincent Perrone, Jr. as our first Hero Among Us of the summer. He was on hand to throw out the first pitch at LaLecheur Park, where the Class A Affiliate Lowell Spinners faced off against New York State's Tri-City ValleyCats.
Perrone took batting practice with the team and enjoyed other perks at the game, thanks to a nomination from friend and former coworker Linda Sasser. "For over 20 years, Perrone has been a major contributor to Veterans, Inc., the largest supportive service agency for veterans and their families in New England," she wrote. "Veteran's Inc. helps veterans regain self-sufficiency and reconnect with their family, friends and community," Sasser explained.
Perrone currently is Chairman, President and CEO of the organization. In addition to helping veterans in almost every aspect of veterans' post-service life, Perrone spearheaded the effort to be the first organization in the nation to provide in-house services to homeless female veterans. These services include supportive housing for female veterans and their dependent children.
"Colonel Perrone and his organization won multiple national awards and recognition for all they do for our veterans," Sasser continued.
"We are pleased to honor Colonel Perrone for his lifelong devotion to his country and especially to his fellow veterans," said Hanscom FCU Chairman of the Board Paul Marotta. "So often, those who have stood by the country when we needed them have faced serious issues upon returning home. The work Colonel Perrone does cannot be overstated."
Hanscom FCU plans to honor its next Hero Among Us on Tuesday, July 12, at the Lowell Spinners game in LaLecheur Park.