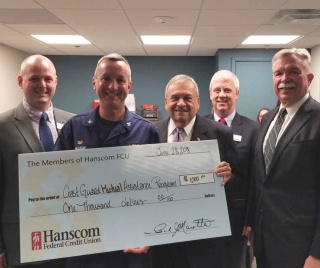 Hanscom Federal Credit Union presented a $1,000 check to Coast Guard Mutual Assistance (CGMA) to celebrate the grand opening of Hanscom FCU's newest branch at Coast Guard Base Boston.
CGMA is the official relief society of the U.S. Coast Guard, providing financial aid to the entire Coast Guard family. It promotes financial stability and general well-being through interest-free loans, grants, and financial counseling.
The check was accepted by Captain James "Brett" Millican, the Commanding Officer of Coast Guard Base Boston.
"Our donation to CGMA is especially meaningful to our credit union," said Paul Marotta, Hanscom FCU's Chairman of the Board, "because we're equally committed to the financial well-being of our members, providing them with the education, tools, and products to better their lives and their families' lives. We're honored to make this contribution to those who serve our country and their families who have need."
The full-service branch is located on the second floor of the Coast Guard Exchange and offers members an opportunity to expand their financial literacy with Hanscom FCU's educational materials and products.
Hanscom Federal Credit Union, headquartered at Hanscom Air Force Base, serves over 82,000 members across the country and overseas through 21 branches, over 100,000 service centers and surcharge-free ATMs, 24-hour telephone service, and a web-based branch. The credit union holds over $1.3 billion in assets.