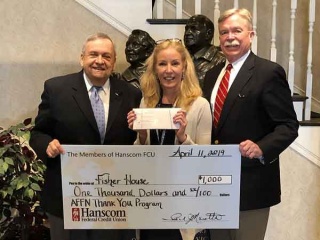 Hanscom AFB, MA (April 26, 2019) – Hanscom Federal Credit Union recently donated $1,000 worth of American Express® Gift Cheques to the VA Boston Healthcare System Fisher House in West Roxbury, MA. The donation matched a recent donation by the Armed Forces Financial Network (AFFN) made through their Thank You Card Program. The $50 gift cheques will be given to military families to help them with care, comfort, and food while they're staying at Fisher House.
Fisher House provides military families with safe, comfortable lodging at no charge while their family member receives medical treatment through the U.S. Department of Veterans Affairs (VA). "We want to assist military families through a traumatic experience," said Paul Marotta, Hanscom FCU's Chairman of the Board. "Fisher House offers military family members a home away from home at no cost so they don't have to worry about paying hotel bills. We're pleased to join with AFFN in support of a critical resource for military families in crisis."
Currently 82 Fisher Houses can be found on 25 military installations and 34 VA medical centers. The Fisher House in West Roxbury was the 46th house to be built and dedicated. It has provided respite for thousands of families with loved ones receiving care at area medical centers.