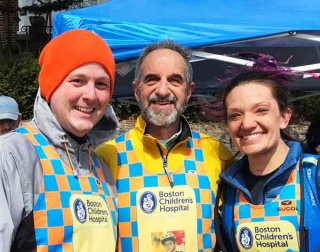 Hanscom AFB, MA (April 29, 2019) – Hanscom Federal Credit union, with the help of its three Boston Marathon® charity runners, raised $63,797 for Boston Children's Hospital this spring, surpassing the goal of raising $60,000. This is the 20th year runners from the credit union have participated in the iconic Patriots' Day race through its partnership with Credit Unions Kids at Heart, one of the largest credit union collaborative fundraising programs in the nation.
One hundred percent of the money raised will be used to fund several pediatric brain research projects at Boston Children's Hospital, including the search for treatments, therapies, and cures for Moyamoya Disease, Sturge-Weber Syndrome, Cerebral Palsy, and pediatric brain tumors.
TeamHanscomFCU was comprised of three charity runners, who trained in the months leading up to the April 15th event. They were paired with Patient Partners from Boston Children's Hospital, who, along with their families, cheered them on through months of training, as well as along the route on race day.
Master marathoner Ray Phillips, a Hanscom FCU board member, has run the Boston Marathon every year since 2000. Ray ran this race to support his longtime Patient Partner, Andy Martin. He finished the race in 5:34:15.
This was Hanscom FCU member advisor Lorie Skelton's second time running the Boston Marathon. Lorie ran the marathon in support of her Patient Partner Timmy. She completed the race in 5:55:22.
Dan Ziniti, the senior vice president of member experience for Hanscom FCU, was a first-timer in this year's marathon. He ran in support of his Patient Partner, Ryan. Dan finished the race in 5:10:31.
"I'm incredibly proud of Dan, Lorie, and Ray's commitment to running this marathon to raise money for Boston Children's Hospital," said Paul Marotta, Hanscom FCU's Chairman of the Board. "They trained hard and gave the race their all. They, along with many of our employees and volunteers, donated a tremendous amount of their personal time at various fundraising events this spring, including a meat raffle, a marathon relay race at our Littleton Operations Center, and two fun runs, among other activities."
Donations for this year's race are still being accepted at www.hfcu.org/marathon.