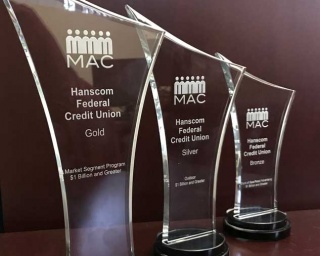 Hanscom Federal Credit Union recently received a gold award for an educational program aimed at young adult borrowers, along with two other awards, from the Marketing Association of Credit Unions (MAC), competing in a field of over 50 credit unions around the country.
The 20-Something's Guide to Savvy Credit Card Ownership won the first-place position in the "Market Segment Program" category for a credit union with more than $1 billion in assets. This guide, a free download from Hanscom FCU's website, educates young adults – many either new or leery of credit cards – how a credit card can be integrated into a strong financial plan and be used to strengthen a credit score.
"This is a generation that was raised seeing credit cards as a way to fund a night out or an expensive vacation, ultimately adding to debt. We saw an opportunity to educate 20-somethings on how a credit card can actually benefit their financial lives, improving their credit scores when used correctly," said Steve Silva, VP of Marketing.
The 2018 MAC Awards ceremony took place in San Diego in June, where Hanscom FCU also received two other marketing awards. These included a silver award for Hanscom FCU's "Driven to Educate" van design, and a bronze award for the development of in-branch brochures.
"We believe that an educated member is a lifetime member of our credit union, and that philosophy drives our marketing," said Paul Marotta, Hanscom FCU's Chairman of the Board. "I'm thrilled that we've been recognized for the unique ways we've been able to reach out and connect with our members, and I'm proud we have a strong team in our marketing department that can execute campaigns that make a difference."