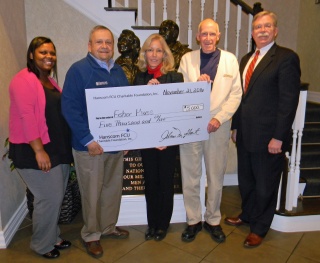 The Hanscom FCU Charitable Foundation has donated $5,000 to Fisher House Boston. The funds will assist with essential needs such as food, transportation, clothing, and toiletries for guests, as well as special events and environmental beautification projects.
"Our association with Fisher House Boston goes back to when they opened in 2010," said Hanscom FCU Charitable Foundation Chairman Al Hart. "We are pleased to continue supporting the great work Fisher House Boston does for our veterans and their loved ones."
"I frequently visit Fisher House Boston to prepare a meal for guests," added Paul Marotta, secretary of the Hanscom FCU Charitable Foundation and Hanscom FCU Chairman of the Board. "My fellow volunteers and I see firsthand how this organization helps those who need assistance."
There are 71 Fisher Houses located in the US, Germany and United Kingdom. For more than 25 years, the Fisher House program has provided a "home away from home" for families of patients receiving medical care at major military and VA medical centers. These homes offer free, temporary lodging to military and veterans' families, allowing them to be close to their loved one during a medical crisis and focus on what's important—the healing process.