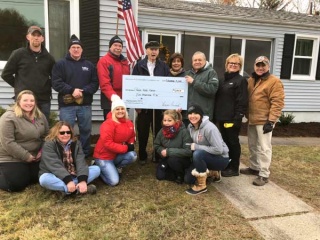 In honor of Veteran's Day this year, the Hanscom FCU Charitable Foundation partnered with Operation Veteran Home Renovation, a Purple Heart Homes program initiative, to help a disabled U.S. Air Force veteran make some necessary home repairs. A team of seven from Hanscom Federal Credit Union, along with volunteers from the Waltham Home Depot and Purple Heart Homes, joined forces to complete the project on a chilly November morning.
Wayne Orpin's Bedford, MA, home was chosen to receive renovations through a national collaboration with Purple Heart Homes and the Home Depot Foundation. The Hanscom FCU Charitable Foundation donated $5,000 toward project costs, which included replacement windows, a new mailbox and door, and general landscaping for Mr. Orpin's property. The Armed Forces Financial Network contributed an additional $1,500 to the project.
"As a military-based credit union serving active duty and retired service members and their families, we're always looking for an avenue to extend our genuine thanks and appreciation for the dedication of our armed forces and the sacrifices they've made to protect our country," said Foundation chairwoman Teresa Conrad. "When we found out a local veteran was in need of basic home repairs that would enable him to live a more comfortable life in retirement, we were eager to work with Purple Heart Homes and Operation Veteran Home Renovation to make this happen for him."
Purple Heart Homes provides housing solutions for service-connected disabled veterans, and its Operation Veteran Home Renovation program partners with participating credit unions like Hanscom FCU to identify older veterans who need help with basic maintenance and repairs on their homes. Funds for the repairs are raised by the credit unions. This program helps make life for older veterans, their families, and their caregivers a little easier so they can safely age in the comfort of their own homes.
Photo credit (l to r): Volunteers from Hanscom Federal Credit Union, Home Depot in Waltham, MA, and Purple Heart Homes with U.S. Air Force veteran Wayne Orpin, whose home received repairs with their help.