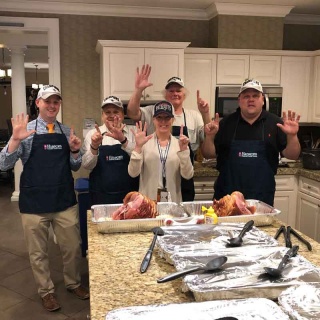 Hanscom AFB, MA (February 7, 2019) – Volunteers from Hanscom Federal Credit Union recently prepared a meal for guests at Fisher House Boston, which provides no-charge accommodation for family members caring for hospitalized U.S. veterans. Fisher House Boston is located at the VA Boston Healthcare System, West Roxbury Campus.
"It's an honor preparing a home-cooked meal for these families," said Paul Marotta, Hanscom FCU's Chairman of the Board. "It's something we look forward to doing as a team. We hope it gives these families some respite during a trying time in their loved ones' lives."
Hanscom FCU has supported Fisher House Boston since the facility opened in 2010. Mr. Marotta, along with employees and volunteers from Hanscom FCU, come to Fisher House four times a year to prepare meals for the guest families.
Since 1991, the Fisher House Foundation has donated 78 "comfort homes," built on the grounds of major military and VA medical centers in the U.S. and overseas. The foundation has served over 368,000 families since its inception, saving them more than $451 million in out-of-pocket costs for lodging and transportation.
Photo credit: Dan Ziniti, Sr. Vice President, Member Experience Director, Hanscom FCU; Paul Marotta, Chairman of the Board, Hanscom FCU; Elizabeth St. Pierre, Manager, Fisher House Boston; Ray Kahre, Board Member, Hanscom FCU; and John Cotter, Facilities Manager, Hanscom FCU serving meals to families at Fisher House Boston and celebrating their team's sixth Super Bowl win.