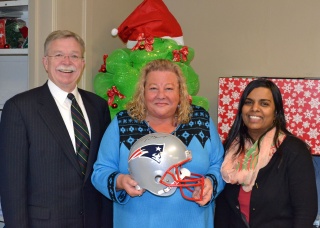 Junelle Valdez was the lucky winner of a helmet signed by New England Patriot Tom Brady. She accepted her prize at Hanscom FCU's Brockton (MA) Branch on December 21.
This was the second sports memorabilia raffle held by the Hanscom FCU Charitable Foundation this year. In September, Marc Vaccarello won three bats signed by Mookie Betts, Dustin Pedroia, and David Ortiz of the Boston Red Sox.
Proceeds from the raffles will benefit the Red Sox Foundation and Massachusetts General Hospital Home Base Program. Home Base helps heal the invisible wounds of war, providing support and education about post-traumatic stress (PTSD) and traumatic brain injury (TBI) suffered by Iraq and Afghanistan veterans.
"We actively support groups like Home Base, because they go to the heart of the community we serve," noted Alan Hart, chairman of the Hanscom FCU Charitable Foundation. "We pledge our full support for those who have served his or her country. Those who suffered the invisible wounds of war need to know we remember."