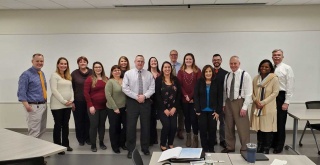 Hanscom AFB, MA (February 12, 2020) – Eight Hanscom Federal Credit Union employees have graduated from the credit union's most recent L.E.A.D. (Leadership Education and Development) program, designed to help those without formal management experience develop the skills and attributes needed for leadership positions within the organization.
"We've continuously recognized the value of our employees, but noticed that some were being passed over for promotions because they lacked management experience on their résumés," said Mike Rzeszutek, Assistant V.P. of Sales and Service for Hanscom FCU. "Growth is incredibly valuable for both the credit union and the employees themselves, and we see it as an investment to teach these crucial skills to our promising employees. L.E.A.D. was created so that we could empower them to reach for and attain the higher-level roles they desire."
This second class of leader trainees were nominated by their managers or senior management. The program included classroom time, a mentoring program, departmental visits, and a leadership book club. There are additional L.E.A.D. classes planned for 2020, as well as an additional course for graduates of the first L.E.A.D. program focused on even more advanced leadership skills.