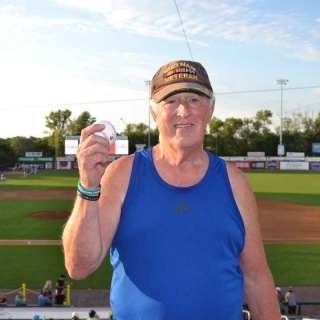 Hanscom AFB, MA (August 29, 2019) – Hanscom Federal Credit Union named retired Army Sergeant First Class Jim Keys as its most recent Heroes Among Us honoree of 2019. Keys was honored on Monday, August 19 at LeLacheur Park in Lowell, MA, where the Lowell Spinners overtook the Connecticut Tigers by a score of 7-3 on a hot summer night. Keys not only dined at Home Plate BBQ and watched the baseball game from a private suite with his friends and family, but also was able to meet with the players and throw the first pitch of the game.
Keys joined the Army at 18, just at the start of U.S. involvement in Vietnam. He served then as a combat photographer, documenting many aspects of the war from the point of view of those closest to it. In all, he spent 25 years serving our country, living on a military base in Germany with his wife and five children.
After retiring from the Army he and his family relocated to Lowell, Massachusetts, spending the next 20 years working as a mail carrier for the United States Postal Service. He continued to exemplify the Army's core values by truly caring for his customers, helping them beyond the scope of his postal duties, and getting to know them on a personal level. Keys is now fully retired and spending his time enjoying the company of his family, the city of Lowell, and the Lowell Spinners.
"Will Keys is a perfect example of what a Hero Among Us truly is," said Ray Phillips, Hanscom FCU's Chairman of the Board. "Not only did he serve his country bravely at war, he then continued to serve his community as a mail carrier for another 20 years. His selflessness is poured out over his community, and we're proud to be able to recognize him now."