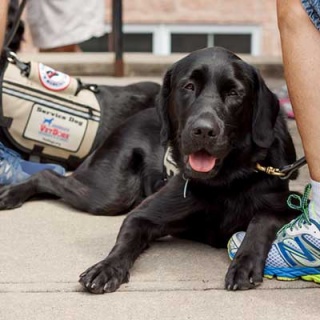 Hanscom AFB, MA (September 1, 2020) – Hanscom Federal Credit Union recently presented a check for $1,500 to America's VetDogs on behalf of the Armed Forces Financial Network (AFFN). This grant matches the Board Memorial Award of $1,500 given to the America's VetDogs at the end of 2019 by Hanscom FCU.
America's VetDogs is a charitable organization that trains and places highly skilled service and guide dogs with disabled veterans, active-duty service members, and first responders at no cost to the recipient. The organization also operates a prison puppy program, where puppies live at correctional facilities and are trained by inmates Monday through Friday and spend weekends in a local puppy sitter's home. After up to 15 months of training with inmates, the dogs are sent to America's VetDogs' headquarters for final training and placement with a veteran, service member, or first responder in need.
"These dogs are trained to provide specific assistance and to give their owners more freedom and independence, but I know firsthand as a dog owner how much more these wonderful animals give to the families they're part of," said Ray Phillips, Hanscom FCU's chairman of the board. "America's VetDogs is not only providing America's finest with physical support, but also enriching their emotional lives. We're so glad that like us, the AFFN also recognizes how powerful this organization's work is and is able to provide some assistance to a great cause."
Hanscom FCU recently awarded America's VetDogs with a $1,500 grant from the Armed Forces Financial Network (AFFN), which matches a donation given by the credit union at the end of 2019. America's VetDogs trains and provides highly skilled service and guide dogs to veterans and first responders in need. Photo courtesy America's VetDogs.