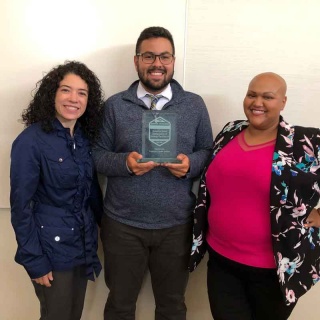 Hanscom AFB, MA (August 6, 2019) – Hanscom Federal Credit Union was recently honored for its financial education programs specifically targeted to the military community. The credit union received the America Saves Designation of Savings Excellence Award for 2019, which was presented by the nonprofit organization America Saves, part of the Consumer Federation of America.
Hanscom FCU participates in Military Saves Week each year, a campaign that brings together nonprofit organizations, defense credit unions, government agencies, and other groups for the shared mission of educating, encouraging, and supporting the financial health and education of the military community. The award recognized Hanscom FCU's many events, workshops, and children's programs held across Massachusetts by its Partner Relations team during Military Saves Week, February 25 – March 2, 2019.
The Hanscom FCU team organized a wide range of financial literacy events during the week, including personalized one-on-one conversations about individual needs, introductory investing guidance, and information about options and benefits unique to federal employees. Activities were not limited to adults; the team hosted a "Feed the Pig" interactive event where children painted and decorated their own piggy banks and were encouraged to keep them healthy by feeding them "greens and minerals" (cash and coins) at home.
Hanscom FCU's Chairman of the Board Ray Phillips said of the honor, "We're proud to receive this award again this year. Our active duty and retired military members and their families face unique opportunities and challenges, and we are dedicated to helping them plan for their families' futures."