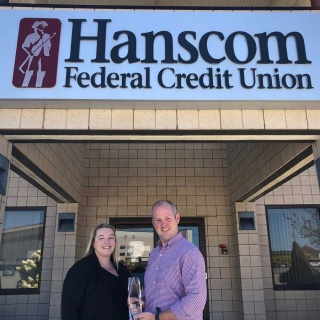 Hanscom AFB, MA (September 10, 2020) – Hanscom Federal Credit Union is proud to announce it has been recognized by Mastercard® in its annual Community Institution Segment Awards with a Doing Well by Doing Good Award. The awards program recognizes those Community Institutions that are making an impact in their communities by demonstrating advancement in innovation, leadership, and philanthropic efforts and recognizes organizations across three distinct categories – Innovation, Doing Well by Doing Good, and Priceless Partner.
Hanscom FCU received the Doing Well by Doing Good Award, which distinguishes top banking institutions that deliver enhanced value to card members by going beyond industry tools and enhancing the customer experience through the best use of assets in community service or charitable contributions.
Since 2000, Hanscom FCU has raised over $500,000 through its partnership with Credit Union Kids @ Heart, one of the largest collaborative fundraising programs in the country, for pediatric brain research projects at Boston Children's Hospital. This has been accomplished through sponsoring credit union employees and volunteers to run the iconic Boston Marathon each year as charity runners, raising money for the cause as part of #TeamHanscomFCU, as well as through member donations in branches.
In 2019, the credit union delivered a record-breaking $60,000 donation to Credit Union Kids @ Heart, a donation that went straight to the children who need it at Boston Children's Hospital. One-hundred percent of the funds raised by the team go toward finding cures for diseases and conditions like Moyamoya disease, Sturge-Weber syndrome, cerebral palsy, and pediatric brain tumors.
Ray Phillips, Hanscom FCU's chairman of the board, as well as a long-time charity runner on #TeamHanscomFCU, said, "Although the Boston Marathon was canceled this year because of the pandemic, we're committed to helping these children. We've got virtual runs planned for our team, and I know that as in past years, our employees, volunteers, and credit union members will step forward and give to this cause generously. I am grateful for Mastercard for recognizing the charitable work we do on behalf of these deserving kids."
"During these unprecedented times, helping people and supporting those in your local community is more important than ever," said Yasemin Bedir, EVP, Processor & Community Institutions for Mastercard. "We salute Hanscom FCU for their unwavering commitment to doing well by doing good and showing up when it matters most."