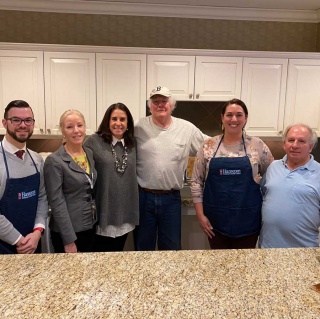 Hanscom AFB, MA (February 7, 2020) – Hanscom Federal Credit Union volunteers prepared dinner for service members and their families at Fisher House Boston on February 5. Fisher House Boston is located at the VA Boston Healthcare System, West Roxbury Campus, and provides no-cost lodging and logistical support for family members caring for hospitalized U.S. veterans.
Hanscom FCU has supported Fisher House Boston since the facility opened in 2010. Employees and members of the board from Hanscom Federal Credit Union go to Fisher House four times a year to prepare meals for families and service members who are staying at the Fisher House during treatment at the VA.
Ray Phillips, Hanscom FCU's Chairman of the Board said, "Fisher House Boston is very important to us. The work they do is so vital in making sure these veterans and their families have everything they need to focus on healing. We're honored to be able to contribute in this small way to help bring them comfort when they most need it."
The Fisher House Foundation has donated 86 "comfort homes" since its founding in 1991, built on the grounds of major military and VA medical centers in the U.S. and abroad. Since its inception, the foundation has served over 400,000 families, saving them more than $451 million in out-of-pocket costs for lodging and transportation as their loved ones receive care.