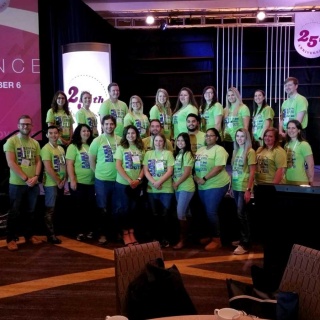 Hanscom AFB, MA (December 20, 2019) – Jennifer DiZio, a home equity lending manager at Hanscom Federal Credit Union, was selected as a "crasher" at the 25th Annual CUNA Lending Council Conference held in New Orleans this November.
The scholarship DiZio received as a crasher allowed her to attend the conference with other young professionals selected from credit union lending departments around the country. The program helps those 35 and under (or "35 at heart") develop professionally and bring their voices to advocate for other young people in the industry.
During the conference, DiZio was able to attend Council events, along with breakout sessions and workshops to help broaden her knowledge of the credit union industry.
"Jen is someone who immediately comes to my mind as a young professional who would take an experience like this and run with it," said Tom Becker, Hanscom FCU's chief lending officer and a member of the CUNA Lending Council Executive Committee. "She's not only an asset to our organization, but has ideas and energy that benefit the credit union industry today and far into the future."
DiZio has been with Hanscom FCU since 2010. She began her career with the organization as a title specialist before being promoted to home equity specialist the following year. In 2014, she was promoted to senior home equity specialist, then assistant manager of consumer loan operations in 2015 before being promoted to her current position in April 2018.