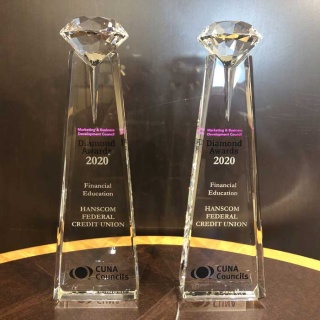 Hanscom AFB, MA (June 29, 2020) – Hanscom Federal Credit Union won two Diamond Awards this year in the financial education category of the Credit Union National Association's (CUNA) Marketing & Business Development Council's annual awards competition. The awards were held virtually because of the COVID-19 pandemic.
One Diamond Award was given for Hanscom FCU's Family Survivorship Guide, a downloadable eBook for members dealing with the financial implications of a loved one's death. The guide answers questions that grieving members have, such as how to access accounts, pay loans, and establish an estate account. The goal of the guide is to provide family members with a compassionate and comprehensive overview of everything they need answers to in the days and months following the death of a spouse or other family member. The guide is supported by an email workflow that offers additional resources beyond the download.
A second Diamond Award was bestowed on Hanscom FCU for its Investment Property Branch Days, a program that brings the credit union's investment property team to local branches to educate and assist members who want to develop real estate investment portfolios. These members are able to set up appointments with an investment property advisor to get their questions answered, and then are followed up through a digital campaign that delivers profitable leads for the credit union.
"These winning campaigns are so different from each other, but the results were the same," said Ray Phillips, Hanscom FCU's chairman. "They each tap into a need we see in our membership and provide valuable information members can use to move forward in their lives. My thanks go to the judges at CUNA, who recognized our creative approaches and awarded our marketing department with these well-deserved trophies."
CUNA's Diamond Awards honor credit unions in 35 categories, ranging from direct mail to website marketing to public relations to social media. Judges evaluated 1,295 entries on strategy, design, production, creative concept, copy, communication, and results.