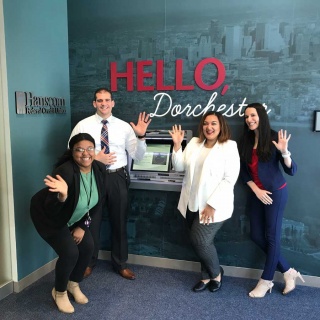 This fall, Hanscom Federal Credit Union opened its 22nd branch at the South Bay Center in Dorchester, MA. This unique shopping complex is pedestrian-friendly and includes mixed-use gathering spaces with a diverse mix of retailers, theaters, apartments, and restaurants.
Elaine Jones, Hanscom FCU's Vice President of Branch Administration, remembers driving through the area before South Bay was developed. "It was a wasteland then," she said. "Now the area feels alive. I look at the sheer breadth of apartments and businesses there, and it takes my breath away. It's beautiful, absolutely gorgeous, and I'm so proud we're a part of it."
During the grand opening celebration this fall, the credit union presented a $1,000 donation to Freedom House, a local youth enrichment organization, which is transforming the economic and cultural fabric of high-need communities through education and leadership development.
Hanscom FCU's newest full-service branch, located at 8 District Avenue, is open 7 days a week. It features a 24/7 deposit-taking ATM and a coin counting machine that is free to members. Its convenient location makes dropping by for any of your financial needs as easy as taking a walk downtown, or you can reach the branch with a 1-minute walk from the Newmarket T Station or a 2-minute bus ride from the Andrew Square T station. If you've got a car, you'll be happy to hear that parking is free.