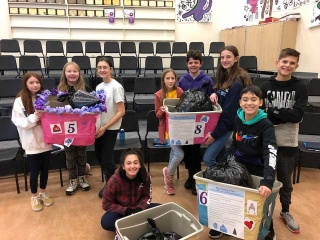 Hanscom AFB, MA (December 20, 2019) – Hanscom Air Force Base continued the tradition of giving back for the holidays by collecting warm winter clothing for their annual Giving Tree program. This year 27 children received clothing through the program, which is coordinated through Hanscom Federal Credit Union and has been in operation since 1990.
The Giving Tree program was supported by Hanscom Middle School's 7th Grade Advisory Group, co-led by music teacher Howard Worona and his colleague, science teacher Tyler Letendre. The students collected warm clothing as admission to their recent holiday concert to donate to the program. Because of their hard work and the community's generosity, additional hats and mittens were collected and will be donated by the credit union to the Massachusetts Coalition for the Homeless in January.
"We're proud to continue supporting such a wonderful cause," said Ray Phillips, Hanscom FCU's Chairman of the Board. "It's wonderful to see so many kids showing the spirit of the season through their actions in our community, especially when there is so much need. We hope that these gifts bring a little extra joy to families this holiday season."
The Giving Tree is set up at the Hanscom AFB Exchange during the holiday season. The tree is decorated with ornaments, each of which includes the winter clothing needs of a child. Volunteers select ornaments from the tree and fulfill the requests by donating new, unwrapped items for first sergeants and school guidance counselors to deliver to families in need. Donations are delivered before the holidays and the winter break.