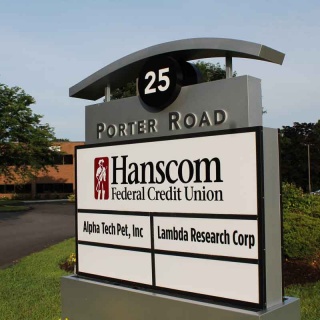 Pulling coolers filled with prepackaged organic meals and salads, Liz Borden arrives at Hanscom FCU's Littleton Operation Center each Wednesday morning. A welcome visitor to the credit union, Liz attracts a line of credit union employees in the lunch room, each looking to purchase fresh foods from 9 Miles East Farm. The kitchen island fills with a midsummer's bounty: glossy heirloom eggplant, yellow squash, aromatic basil, sun-ripened tomatoes, and other vegetables and herbs picked earlier that morning. This "farm-to-office" concept is one of many ways that Hanscom FCU ensures employees working out of its new operations center feel at home.
In 2016, the credit union purchased the 67,000-sq.-ft. building at 25 Porter Road with plans to accommodate employee growth over the next eight years. After a thoughtful renovation designed with environmental sustainability and employee comfort in mind, Hanscom FCU opened the center earlier this year. The Littleton location is ideal, just a stone's throw from Rt. 2 and the Interstate 495 exchange, making it a convenient commute for employees, the majority of whom live along the Route 3/Route 2/Interstate 495 corridor.
Room to Grow
The operations center is a necessary expansion to Hanscom FCU's headquarters on Hanscom Air Force Base. Administration, marketing, and several other departments remain at the main office on the Air Force Base, while 125 employees in the credit union's operations, call center, information systems, lending, accounting, member relations, and human resources departments now report to Littleton. In addition, the Littleton location now serves members at the brand-new branch in the building's lobby.
NES Group of Mansfield, MA, which has successfully completed other building projects for Hanscom FCU, oversaw the major renovations required to bring an office building built in the 1980s into the 21st century. Tom Chiudina at DRL Architects, the in-house architectural division of NES, designed an energy-efficient workspace that's predominantly illuminated by natural light. On top of this, up-to-the-minute technology harmonizes with the sustainable design Hanscom FCU's management and board of directors desired.
Sandy Imbrogna, a training manager at Hanscom FCU, appreciates the investment made in technology. "Now we have the space and tools in the training room to train a multitude of employees at once," she said. "We have the technology we need to share information with our employees and expand their knowledge, all in a beautiful space."
Emphasizing the Environment
Hanscom FCU's environmentally friendly choices include LED lighting fixtures throughout the building, a solar farm on the roof to offset energy costs, and an energy-efficient heating system. Offices and openspaces are wired with vacancy sensors to conserve energy and reduce energy costs. The credit union chose "green" products for flooring, plastering, and painting, which are kinder to the environment. In choosing a vendor to supply office furniture, seating, and cubicles, a local fabricator, AIS Systems in Leominster, which manufactures office furniture and cubicles with high recycled content, appealed to the board's desire for sustainability.
"Hanscom FCU went above and beyond code standards," said Chiudina. "It was refreshing to work with a client like that."
Shiny Happy Employees
Another important feature for Chiudina's team was designing a building that makes employees comfortable at work, so they outfitted workspaces with ergonomic sit-stand desks, and designed collaborative spaces with comfortable seating for impromptu meetings. Other amenities include a fitness center with male and female shower complexes, a spacious lunch room stocked with free coffee and soda, the reading room where employees can do quiet work, and a mother's room, complete with a small refrigerator for breast-feeding moms who pump.
The fitness center was an important addition for Tom Becker, Hanscom FCU's chief lending officer. When operations employees were working on Hanscom Air Force Base, they had free access to the excellent military fitness center, so it was important to him that employees moving over to Littleton could continue working out to stay fit. His determination to see the fitness center through to completion paid off. "We have employees working out before work, during lunch, after work – even on weekends," he said.
As for the rest of the building, Becker said, "Our employees are excited about the expansion. They've got a space that's airy and bright, filled with natural light."
"It was a challenging building," admitted Chiudina. "The center of it is far from the outside walls, so we designed it so as much natural light would filter through." LED cove lighting gives the building's interior a feel of natural, diffused light. A sound-masking system in the ceilings also lends to the feeling of peace and calm in every department.
One employee who appreciates the soundmasking system is member service liaison Kathy Farrell, who is often the first person people see when they enter the building. "There are so many people here, but people respect the space. I'm a loud person, but it makes me want to be quieter," she said jokingly.
Local and Green
Soon after the operations center opened, 9 Miles East Farm was invited for an employee taste-testing of their prepackaged farmto- table meals. Today the farm, which touts itself as "Local Food for Busy People," makes weekly deliveries of their farm-fresh Go Boxes for employees to purchase from the lunchroom, which also includes a Lean Box kiosk where employees can buy microwavable healthy dishes and snacks at cost; the credit union subsidizes the balance.
"I don't always sell out, but I sell plenty," said Burton while taking a mobile credit card payment from an employee.
"This is an absolute benefit," said Sara Klingener,a loan officer in the Member Relations department who's a regular customer. She gestured to the two salads she just purchased. "No cooking tonight. This will be dinner for me and my husband."
It's not just employees who are happy with the new operations center. Members are happy with the public spaces, too. Virginia Clarke, the Littleton branch manager, spent her first few weeks on the job reaching out to credit union members who live in the area to let them know they can now handle their financial affairs locally.
"My folks, when they realized we're here, were overjoyed," she said. "They find the space very welcoming."
As David Sprague, Hanscom FCU's president and CEO points out, "An expansion brings more members to us, and makes us a stronger community. That we've also been able to build in a sustainable way is an asset, too."