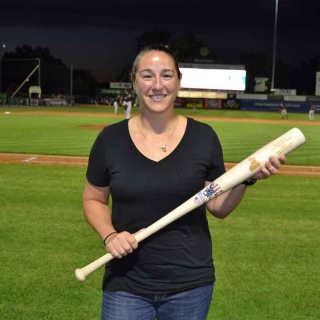 Hanscom AFB, MA (September 6, 2019) – Hanscom Federal Credit Union named Major Kristen Cepak as its final Heroes Among Us honoree of 2019. Cepak was honored on Thursday, September 5 at LeLacheur Park in Lowell, MA, where the Lowell Spinners faced the Batavia Muckdogs in the playoffs. Cepak was able to meet with the players, throw out the first pitch of the game, enjoy a late summer meal from Home Plate BBQ, and watch the Spinners play from a private suite with friends and family.
Maj. Cepak's military career began in college, where she was a member of the Boston University Air Force Reserve Officer Training Corps (ROTC) program. While still in school she was selected for pilot training school, and upon graduation in 2009, Cepak began flying the U-28A Draco. The Draco is a utility craft used to provide intelligence, surveillance, and reconnaissance support various special operations missions. Cepak has clocked over 2,200 flying hours, including over 1,300 hours in combat, and has deployed 7 times to Afghanistan, Africa, and the Philippines.
In 2015 Maj. Cepak transitioned to Acquisitions and currently serves as the Branch Chief, managing the procurement and sustainment of air traffic control towers in the United States and abroad. She is a consummate professional and true leader, keeping her direct reports and other colleagues focused and motivated. Maj. Cepak is highly decorated, with medals and awards recognizing a wide array of accomplishments ranging from multiple deployments to Afghanistan, participation in anti-terrorism campaigns, and meritorious achievement in aerial flight.
Outside of her formal military career, she continues to be a support to the greater Air Force community. Nominated by a friend and colleague, Maj. Cepak perfectly exemplifies the Air Force core values of Integrity First, Service Before Self, and Excellence in All We Do.
"Major Cepak's story and career are absolutely impressive," said Ray Phillips, Hanscom FCU's Chairman of the Board. "Not only are her many combat missions in defense of our country honorable, but also her continued service and overall drive to serve her country and greater Air Force family are the perfect example of what a Hero Among Us stands for. We are honored to recognize her selfless contributions today."