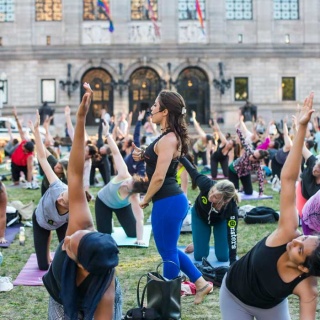 Hanscom AFB, MA (June 17, 2020) – Hanscom Federal Credit Union is pleased to announce that it funded over $10 million in lending for its small business members through the Small Business Administration's Paycheck Protection Program (PPP).
While news coverage focused on struggles faced due to the volume of PPP applications institutions received, Hanscom FCU was able to process its business members' loan applications quickly and efficiently, garnering a high level of member satisfaction.
Ali Singer, the owner of YogaHub, which provides corporate wellness services for business organizations and professional development for teachers around Boston, was one such business member who appreciated Hanscom FCU's responsiveness during the COVID-19 outbreak. She said, "I had been with Hanscom FCU for my car loan and contacted them for the PPP loan. Almost immediately after I inquired through their online form, Phil Purcell called me to follow up — on a Saturday! He laid out all the following steps and answered all my questions and concerns clearly and with confidence. Phil responded to every outreach in a timely manner and made it as easy as possible the whole way through. The whole experience was easy, friendly, and absolutely instrumental in enabling me to carry on business operations through COVID-19. I have a number of accounts through five other banks and none of them has ever been this easy to work with, let alone able to facilitate the PPP loan so quickly."
Phil Purcell, Hanscom FCU's VP of commercial lending, offered this response: "It was our lending team's goal to help as many of our small business members as we could during this pandemic. We were keenly aware of the frustrations and challenges our business community was facing, so we doubled-down in our commitment to provide service that was as expedient and stress-free as it could be. That so many of our members are reporting we were able to come through for them is a gratifying outcome, and I thank Ms. Singer for thinking of us."
The PPP loan was designed to incentivize small businesses to keep their workers on the payroll. The loans will be forgiven if all employees are kept on the payroll for eight weeks and the loan is used for payroll, rent, mortgage interest, and/or utilities.
As of June 22, 2020, Hanscom FCU is no longer accepting applications for PPP loans.