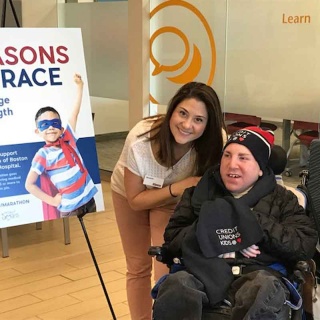 Elizabeth Kistoglou, the assistant branch manager of Hanscom Federal Credit Union's Billerica branch, will be running her first marathon at the Boston Marathon on April 16. Elizabeth will participate as a Hanscom FCU charity runner with the Credit Unions Kids at Heart program. The program raises money to support research at Boston Children's Hospital (BCH) for pediatric neurological diseases.
Elizabeth, who has been a Hanscom FCU employee for 4 1/2 years, had been thinking about running a marathon for a long time. When she found out that the Credit Unions Kids at Heart donations would be used to research Moyamoya disease, a condition affecting two members of her family, she was "all in" and committed to Team Hanscom FCU's 2016 push at the Boston Marathon.
"The fact that we raise money specifically for one of the diseases that touches my family has been really encouraging through my training," Elizabeth said.
Credit Unions Kids at Heart charity runners each run with a Patient Partner from BCH, and this year Elizabeth will be running for Timmy, who has cerebral palsy.
"Patient Partners are the happiest children I've ever met in my life," said Elizabeth. "The people who have the most to be upset about are some of the happiest, most giving people I've ever met."
Elizabeth, who lives in Nashua, NH, and is a student at Southern New Hampshire University, has been training since the first week of December 2017. While some of her practice runs have been rough, she is committed to making it to the finish line on April 16. "When you push your body beyond what you think you can do and then you get there…it's an amazing feeling. I'm looking forward to that feeling."