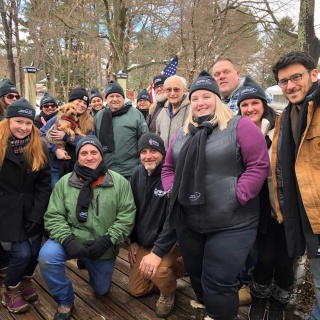 Bedford resident Milton Moffett is well known around town for his volunteerism and generosity, so when Hanscom FCU learned a member since 1963 could use a helping hand, we reached out.
The 89-year-old U.S. Army Air Corps veteran, who served from World War II through the Cold War, needed a ramp for backyard access. Staff from Purple Heart Homes, which provides housing solutions for service
connected disabled veterans, worked with Hanscom FCU volunteers on a brisk December morning constructing the ramp, along with a prefab shed, for Moffett's use. A $10,000 donation to Purple Heart Homes from the Hanscom FCU's Charitable Foundation covered the cost of the project.
The Hanscom FCU Charitable Foundation salutes all of our members like Milton Moffett who've served. Contributing to projects like these lets us thank men and women who've given so much to our community, our nation, our world.