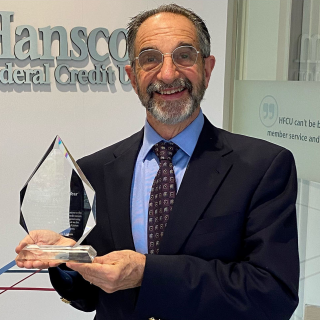 Hanscom AFB, MA (October 23, 2020) – Hanscom Federal Credit Union's chairman Ray Phillips has received the Cooperative Credit Union Association's (CCUA) 2020 Volunteer of the Year award. He was presented with the award during the CCUA's annual convention on October 16, a virtual event this year.
The award is given out to volunteers who, in the words of the CCUA, "have given freely of their time, energy, wisdom, and knowledge to help guide and nurture a credit union to success, year in and year out." Phillips not only meets these standards, he exceeds them.
Phillips has been a member of Hanscom FCU's board since 1994, serving in a variety of leadership roles until his election to chairman of the board in the spring of 2019. He retired as a senior cost/price analyst for the U.S. Air Force in 2004, but continued to perform contract work for them through 2015. Phillips has also worked for the U.S. Army Corps of Engineers and the Federal Home Loan Bank Board. He holds a bachelor's degree with high honors in business administration from Lowell Technological Institute and an MBA with honors from Babson College in Wellesley. Prior to this, he served in the U.S. Navy for four years.
Phillips volunteerism extends beyond Hanscom FCU's boardroom. An avid long-distance runner, he has participated as a charity runner for #TeamHanscomFCU at the Boston Marathon since 2000. His dedication to raising awareness of pediatric neurological diseases has led him to raise over $500,000 through the years via the credit union's fundraising partnership with Credit Unions Kids @ Heart. He has even inspired his long-time patient partner Andy Martin to set his sights on participating in the iconic race as an adult, a goal Martin achieved in 2014 as a wheelchair entrant.
"Ray is the one volunteer you can count on to show up at a community event during a downpour or who'll stick around to help the clean-up crew on a hot day," said David Sprague, Hanscom FCU's president and CEO. "He's the guy you want on your team, and we're so lucky to have him leading our board right now. I am pleased and grateful that the CCUA has recognized Ray for all the positive attributes the rest of our board, as well as our employees, are well aware of."
Phillips and his wife, Susan, live in Acton with their dog Ginger. Besides running and volunteering for the credit union, Phillips serves in a leadership role at his place of worship.